Oak Frame Pavilion Kit Guidance
We will provide you with simple plans and guidance for laying straightforward foundations which can be prepared by you or your local builder.
We recommend using 'pad foundations' (small cubes of concrete) below each post. The post holes are easily dug out by hand and the quantity of concrete required can be mixed by hand from small bags of ballast without the need for a delivery of concrete on a wagon.
Many people decide they enjoy taking this on themselves.  To make things a little easier our frames include adjustable post bases to take account of any variation in levels between the foundations.
Raising the frame
The exciting bit of every project is when the heavy oak beams are lifted into place and the frame suddenly takes shape.
Once you have your pad foundations in, we will deliver your frame ready for erection. We recommend that somebody with a carpentry background install your frame and a minimum of 2 people are required. The oak beams are extremely heavy and lifting equipment will be needed.
If your frame is being installed by our team, the erection of the frame usually requires just one day on site.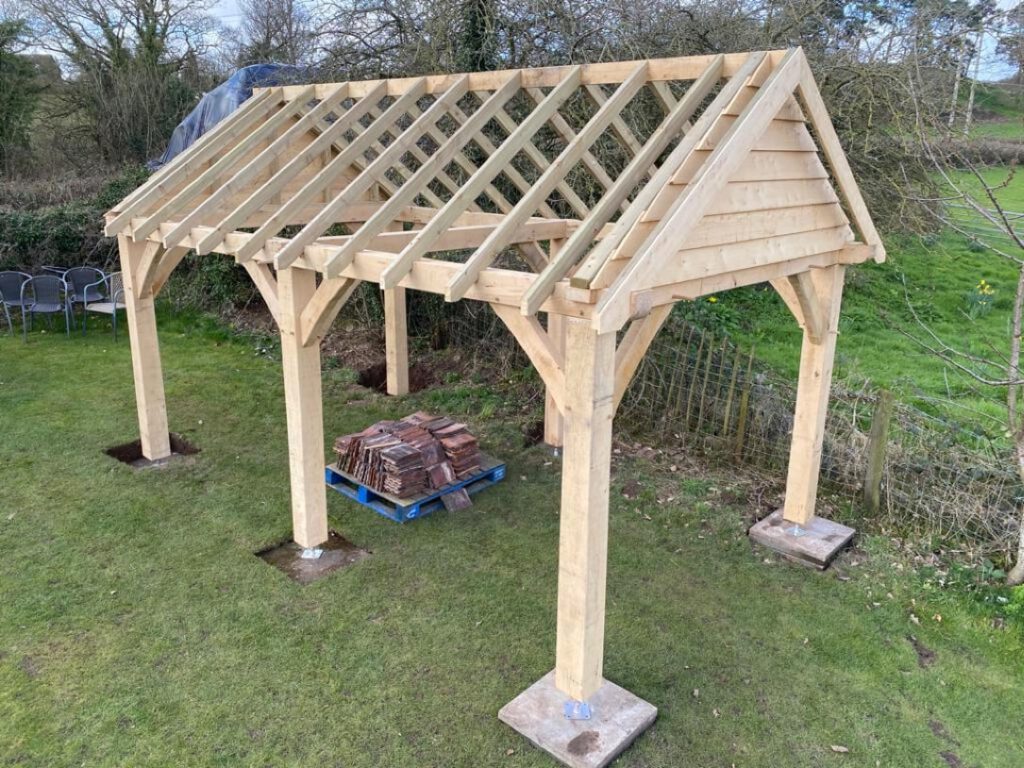 Roofing Your Frame
Once your garden pavilion frame has been erected, it is ready to be roofed by your builder although many customers have taken this on themselves. We generally recommend leaving the underside of the tiles and battens in the roof exposed which is the finish in most old barns and many old houses. The roofs can have membranes installed but this doesn't give a particularly attractive finish and is more suited to a domestic situation with moisture entering a dwelling.
The frames are designed to carry most roofing systems used in the UK. The pitch of the roofs in our pavilion range is 35 degrees which is ideal for traditional plain tiles. In our area of Worcestershire and Shropshire most roofs on old buildings are traditional clay plain tiles, but slates and cedar shingles can be used. Please let us know if you plan on using a stone tile like Cotswold tile as we may need to change the rafter size in this instance, as the laid weight of stone tiles can be very high.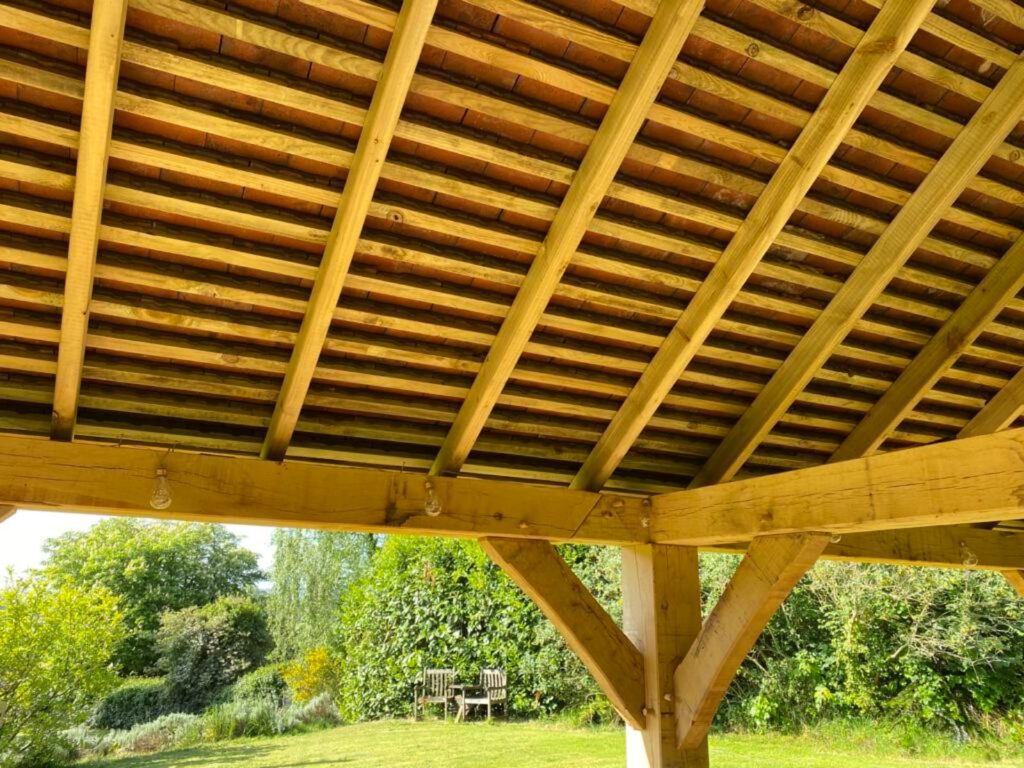 The aftercare of our oak buildings is very minimal. Oak can be treated and coloured if desired but this will then be an ongoing process. We generally recommend leaving the oak untreated, allowing it to weather naturally to a beautiful silver colour.
Initially the frame will leach tannins onto surrounding brickwork and slabs. This leaves a brown stain and is the tannin acid in the top layer of the oak seeping out when the frame is rained on. This stops with time and the brown staining naturally washes away.
The tannins in oak barrels are what give the colour and flavour to whiskey. It's not recommended to try but some oak apparently tastes of bourbon!
Oak is a natural product and the frame we install will change and develop over the coming years. Shrinkage and shakes (vertical cracks and splits that open in the frame) occur as the frame dries and are part of the charm of an oak frame, with no two buildings ever being exactly the same. The shrinkage of the frame helps to tighten the joints over the years and is taken into account in our design.
Planning Permission and Building Control
All of our buildings are below 4m ridge height and therefore can be constructed under permitted development rights subject to caveats and restrictions outlined in planning policies. We always recommend that you check whether planning is needed for your particular site.
Whilst all the buildings in our gazebo range are less than 30m2 in area and therefore shouldn't be subject to building control approval, it is the customer's responsibility to check whether any special circumstances on your site will mean building control approval is required.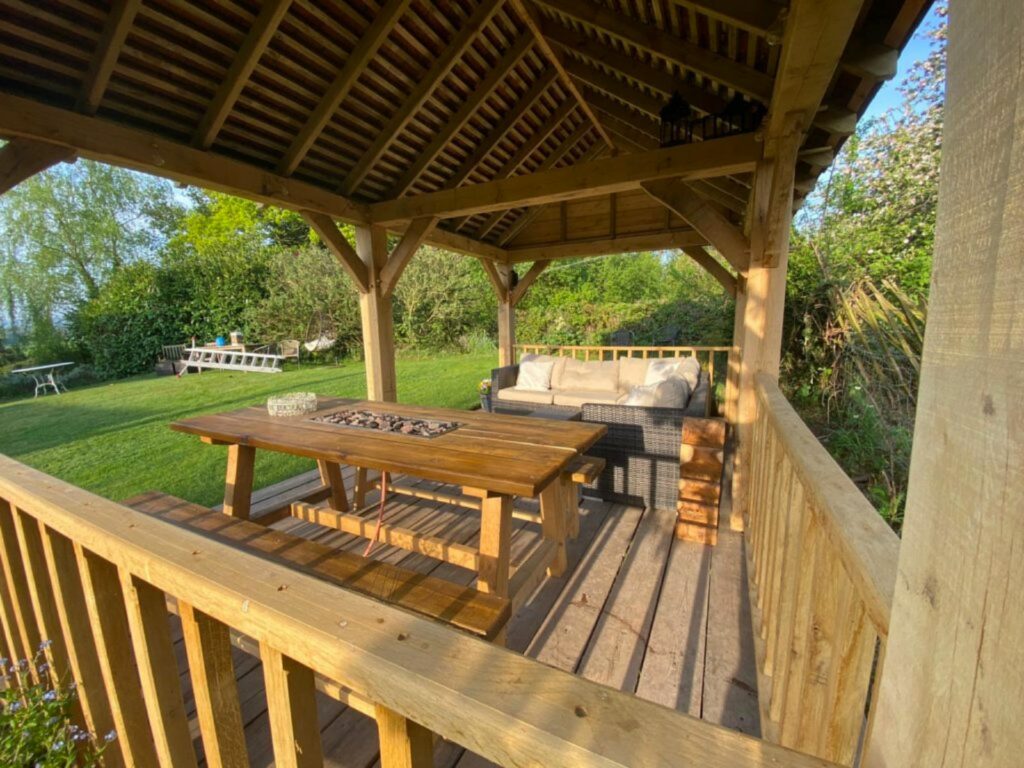 For further information on all of our Oak Frame Pavilion Kits, or for a quote on a bespoke size…