Lindridge Pavilion
From £5,050.00 + VAT
At 3m x 4m, the Lindridge pavilion is the perfect size for any garden space.
The gable ends are finished with stunning king post trusses, creating a real wow factor to the structure, as well as allowing more light through.
Make an Enquiry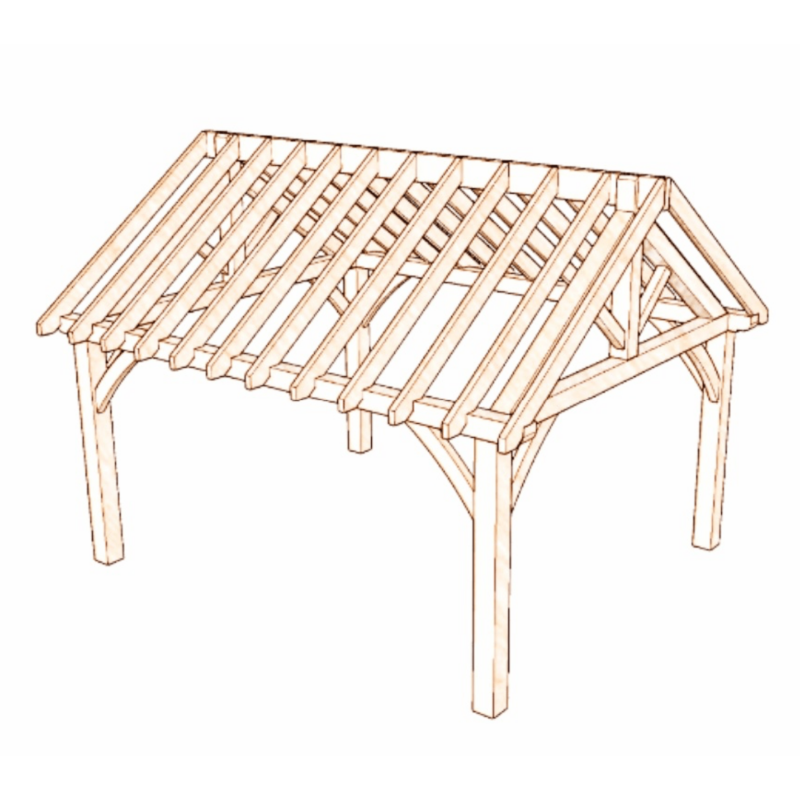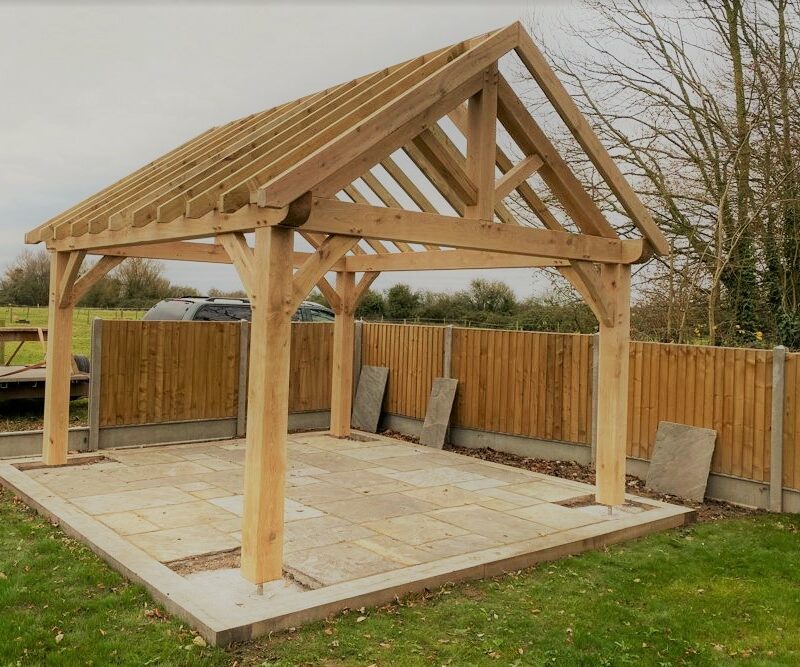 Our 4 post Lindridge pavilion is finished with stunning king post trusses, creating a real wow factor to the structure.
The handcrafted oak frame is jointed using traditional mortice and tenon joints and drawbored. The frame consists of 7″x7″ green oak posts, with 6″x6″ eaves beams and 6″x8″ tie beams. All post edges are eased by hand to provide that traditional look.
Your pavilion will be handcrafted to order by the same experienced team who produce our bespoke oak frames, providing exceptional quality plus value for money.
Our pavilions come with pre-installed adjustable post bases to fit perfectly into your prepared groundworks and you can choose to customise your frame by adding balustrade, or cladding as required.
Dimensions 4m x 3m
Base of eaves 2.05m
Ridge Height 3.3m
Roof pitch 35 degrees. Suitable to take a traditional clay plain tile (barn tile), natural slate, cedar shingle or concrete tiles
Traditional king post truss frame at each gable
Posts constructed from 7″x7″ green oak, eave beams and tie beams from 8″×6″ green oak, kingpost truss design
Frame jointed using traditionally mortice and tenon joints and draw bored
All edges eased
4 oak posts
2 oak eave beams
2 oak tie beams
2 Kingpost trusses
8 oak knee braces
Seasoned oak dowels to peg joints
Pressure-treated softwood rafters and ridge beam
Fixings
Pre-installed adjustable post bases
Installation
If required, we can also arrange for our experienced team to install your pavilion.
Bespoke Serrvice
Our pavilion kits can be adapted to a bespoke size to make the most of the space you have available. We also offer additional feature enhancements such as cladding and balustrade to meet your personal preference.
For delivery and installation prices on all of our Oak Frame Pavilion Kits, or for a quote on a bespoke size…